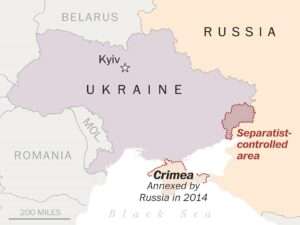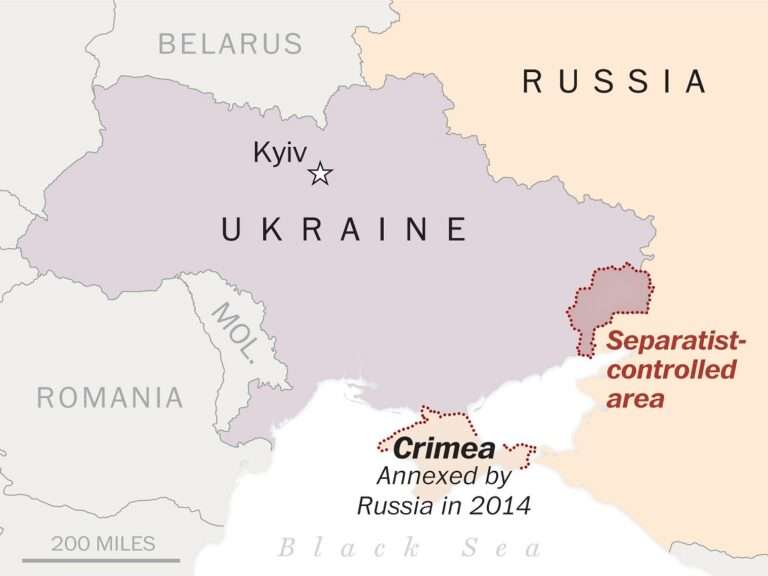 Russian President Vladimir Putin may be planning a massive invasion of Ukraine. He has already sent extra troops into eastern Ukraine to fight pro-Russian separatists. There are many complexities to the conflict between Russia, Ukraine. However, the conclusion is simple: While neither country is an example of virtue, Putin's regime is in the vast majority of the wrong from both a legal and judicial perspective.
It is very simple. The law is simple. There are very few violations that violate international law more gravely than the taking of territory of other countries by force with the intent of annexed it or ruling under a puppet government. According to the United Nations Charter, "the use or threat of force against any state's territorial integrity or political independency is prohibited." This describes Russia's invasion of Ukraine.
One of the major accusations against Nazi defendants at the Nuremberg trials was that they had waged wars of aggression. However, the Nuremberg tribunal declared that it is an international crime to start a war. Putin's motives for seizing Crimea, and later the Donbass area of Eastern Ukraine, in 2014 are similar to Hitlers' for attacks on Poland or Czechoslovakia. Putin claimed that he needed to protect ethnic populations from threats (ethnic German minorities and Sudetenland for Hitler; Russian-speaking people in Ukraine for Putin).
This vital international law is not being broken by Putin just yet. It was something he did twice before. The first was when he sent troops in to take over Crimea in 2014. And then, he again used his force to support the secession of Donbass by separatist forces. Russia had claimed that the Donbass was not under their control until recent times. This claim is obviously false. Even a Russian court ruling acknowledged that it was made in an impulsive moment. Russian forces are clearly involved in the fighting which has claimed 14,000 lives since 2014. The separatist forces without Russian support would have long been defeated and likely never would have gained so many territories. Over the past few days Russia has openedly moved its troops into Donbass.
Putin will not be able to overtake more Ukraine if he continues his already illegally aggressive policies. The  best historical analogy would be Hitler's shift from taking the Sudetenland (the part of Czechoslovakia with a large German population) in 1938 to occupying all of Czechoslovakia in 1939.
This is the legal problem. Legal activity may sometimes be acceptable if it is in the interest of justice and respects human rights. Sometimes,  it is right to disobey the law, especially if doing so promotes justice and protects human rights.
Russia's aggression however has resulted in the exact opposite. It has not protected human rights but had the opposite effect. Russia's aggression replaced a relatively free, though flawed, government with an authoritarian, oppressive regime. The first territory to be seized by Putin's troops was Crimea. Since then, there have been massive violations of human rights, including the persecution of dissent and the repression against the Crimean Tatar minority (which has had a history of being victimized by Soviet Russian and czarist rulers).
The claim that Russia took Crimea because it held a referendum under Russian control was false. This was determined in a May 2014 investigation by the Russian Presidential Council on Civil Society and Human Rights. It is one of few Russian agencies that has some independence from Moscow. Even an honest and fair majority vote is not enough to justifiably rule over a government as brutal as Putin's. Regardless, Crimea did not have a fair vote.
In the Donbass, the story is similar. In the Donbass, too, Russian rule led to widespread repression of rights violators. Notably, it should be noted that surveys show that most people opposed Russian rule in the region. That is another reason it was only possible to keep it alive by force.
Amnesty International recently summarized human rights conditions in Crimea as well as the Donbass.
Many humanitarian and civil society actors were unable to reach the territories in eastern Ukraine that are controlled by Russia-backed separatists. Suppression of all forms of dissent persisted, including through arrest, interrogation and torture and other ill-treatment by the de facto authorities, and imprisonment in often inhumane conditions….

The crackdown continued on the work of human rights and any dissent. [in Crimea], as did restrictions on the media…..

Russian occupying authorities continue to attack human rights defenders. They also targeted members of Crimean Solidarity. It is a grassroots self help group made up of ethnic Crimean Tatars. Many of the members of this group were facing politically motivated criminal proceedings. These included allegations that they had been accused of belonging to Hizb-ut-Tahrir – an Islamist organization banned in Russia, but legal in Ukraine – and they are now being charged with conspiracy. As reprisals for ethnic Crimean Tatars, arbitrary intrusive home searches, informal interrogation by Russian security force and intimidation were all common.
Amnesty also points out numerous inequalities and flaws that have been committed by Ukrainian rulers. However, the report concludes "[m]Although edia was largely pluralistic and free of violence, harassment and intimidation against journalists were common. This contrasts sharply with Russia-occupied Ukraine and Russia.
Ukraine, unlike Russia, has free elections. The opposition parties are allowed to operate and the media is also permitted to be freely regulated. In 2019, the opposition won the elections and the defeated president Petro Poroshenko conceded power to Volodymyr Zelesky, who is currently the Ukrainian President. This scenario would have been almost impossible for Putin's Russia. While Ukraine is far better than Russia in its treatment of religious and ethnic minorities, it also has a far more positive outlook on Russia's suppression of foreign churches. Although homophobia in Ukraine is not uncommon, the Russian government has done nothing to stop it from being widespread.
Unfortunately, the Ukrainian government is anything but ideal. There are many violations of liberal democratic norms by the government, and both the judiciary and the bureaucracy in general suffer massive corruption. This is also true for Russia. Although it has its flaws, Ukrainian governance is still far superior to Putin's.
The Russian regime in the occupied Ukraine was authoritarian, brutally oppressive and authoritarian. This is not surprising as much of the same applies in Russia. If Putin's forces take more territory in Ukraine, similar repressive policies will be implemented in any new areas.
Putin's claim that the attacks on Ukraine were justified due to Russia's threat by NATO expansion is just as absurd as other reasons for aggression. There is not a real chance that Ukraine will join NATO. This is because many key NATO allies are opposed to it. NATO expansion is not seen as a significant threat to Russia. It was accompanied by a substantial drawdown in US and allied troops in Europe after the Cold War. If  the NATO powers genuinely sought to threaten Russia, they would have been building up their forces in the region, not scaling them back. NATO is the only danger to Russia's potential attack on its neighboring countries. NATO is unlikely to launch a war on Russia.
Ironically, Ukrainians are more interested in NATO membership than Russian attacks. A small number of Ukrainians, with 30% and less supporting joining NATO in 2014, supported Russia's attack. Russia's persistent aggression has caused support to slowly rise (becoming majority in 2021).
Putin's motives are likely to include fear of contiguous liberal democracy in countries culturally similar Russia as well as his desire to destroy Western liberalism and rebuild the Russian Empire. There is absolutely no reason for Russia to attack Ukraine in 2014 and the current, nor for any escalation.
Because the Ukrainians are an ethnic "people", I deliberately avoided any argument that Putin's aggression was unjust. They have a right of autonomy, based on their own self-determination. This is not to say that I believe Putin's absurd claims that Russians, Ukrainians are in essence the same and should be united. This is because, in principle, I don't believe that any group has the right to govern territories, especially territories, based on their ties to culture, race, or ethnicity. In Chapter 5, I explained the reasons. Moving freely: Migration and Foot VotingThis article also contains some useful information. However, if you have a conventional view about the right to ethnic autonomy, Ukrainians can still claim it.
This is not enough to determine how the US or its allies will react to Russia's actions. Although there are reasons to avoid military conflict with Russia directly, this still leaves many other options. They are not all equal. I tried to only assess the legal, moral, and conflictual aspects in this article.