Fix the Courts requested public records from the University of Louisville. A 120-page document dump was sent to Fix the Courts regarding Justice Barrett's September 2021 trip to McConnell Center. I went through the document dump and came across a handful of interesting documents. FOIA dumps generally have the latest emails at the top. I therefore always start at the bottom.
The Public Information Office and Gary Gregg, at McConnell Center had a heated exchange about restrictions on press releases.
First, on August 9, 2021, the Court's PIO office provided very strict conditions for the press–no still photograph!
If you would like to open the public event to media coverage, the Justice would like to follow these guidelines: Print press coverage only–no broadcast coverage andNo still photography, including no photograph taken by McConnell CenterNote taking and broadcast are not allowed on recording devices. Reporters should be seated in a separate section and should not participate in any Q&A with the audience, if any. The Justice is not available to interview or provide press availability during her visit. You are asked to notify the Justices prior to her event and ask attendees. Do not take photos with your cell phoneRecording or recording at the Justice's events.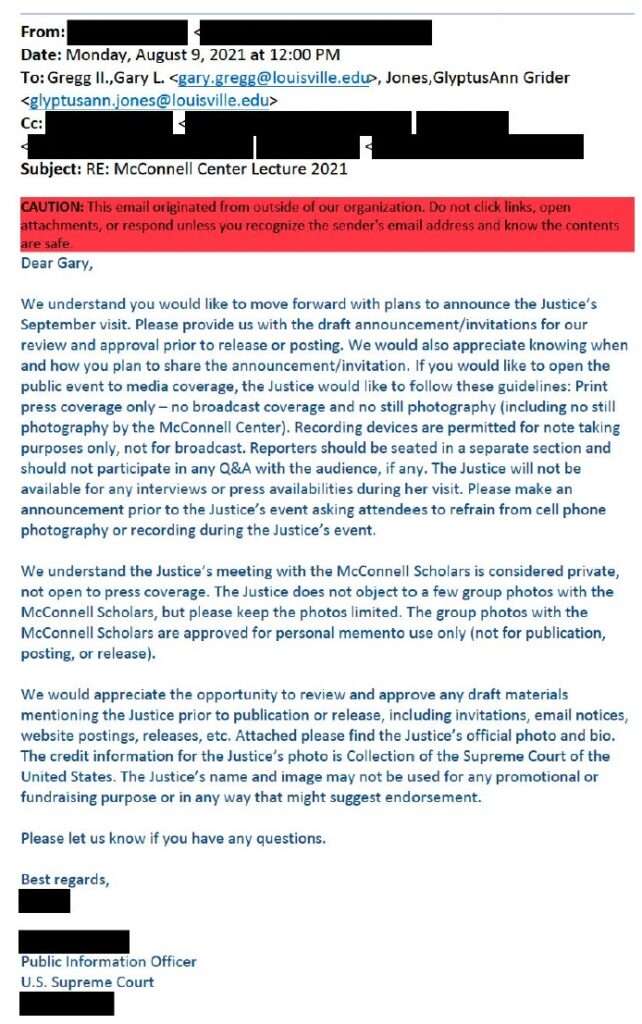 Zweitens, Gary Gregg, of McConnell Center, wrote back to him on August 19, 2021. He called them "draconian". He was absolutely right. This restriction is completely incompatible with the way public events are organized. While I don't think recording should be prohibited, it is understandable. But the Justice doesn't want his voice to be heard on television. A ban on still photography? As though everyone in the room doesn't have a smartphone? Are these limitations imposed by PIO or the Justice? Art Lien may be able to do a sketch.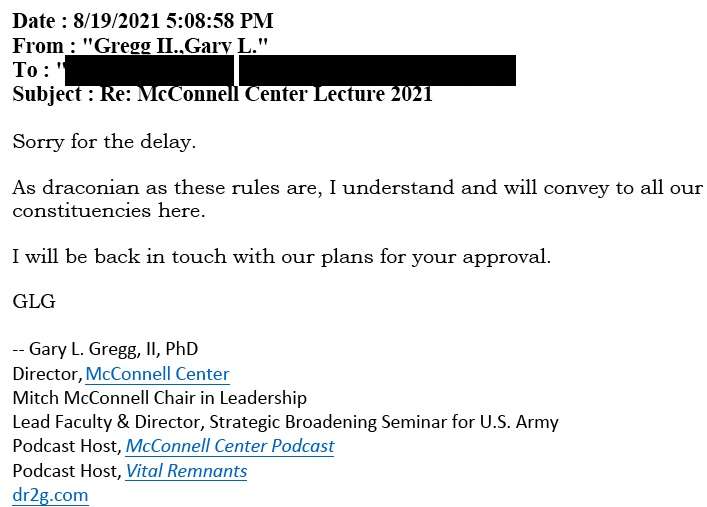 Gregg also asked Barrett if he would photograph students and soldiers at private meetings on September 7, 2021. Gregg then asked Senator McConnell or any other VIP if they could be photographed. This request led to some reconsideration.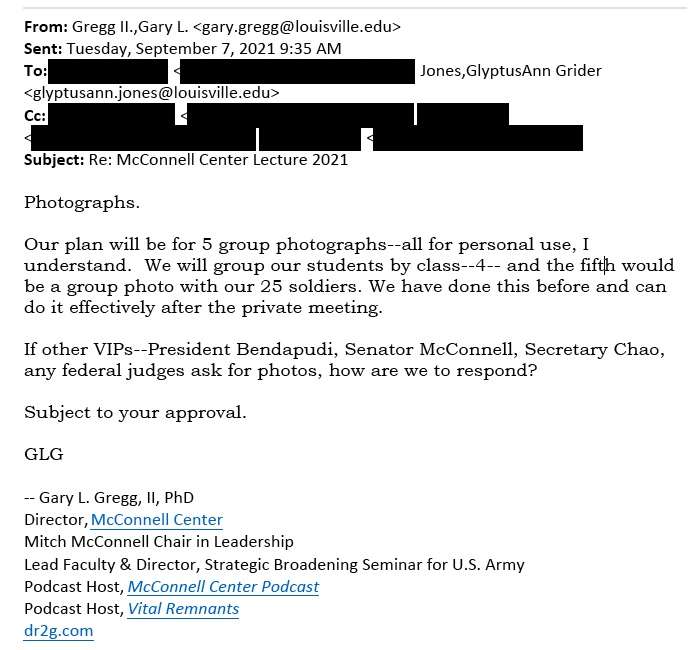 On the fourth day of that week, PIO released revised guidelines for press coverage. A still photo would now be permitted for just a few seconds:
We have updated the guidelines for Justices's Public Event to allow limited still photography. If you have questions, or would like me to talk about it, please let me know. If you wish to allow media coverage of the event, please follow the following guidelines: Photographer stillOnly for print media coverage. Note taking is not permitted. Still photographs are not allowed after the first and second 1-2 minutes.It is important to follow these instructions. Reporters should be seated in a separate section and should not participate in any Q&A with the audience, if any. The Justice is not available for interviews and press availability. Photographs taken during the McConnell Center public lecture can be used to support news coverage. Photographs should be limited to only the Justice event's first and final 1-2 minute segments by the McConnell Centre photographer. A member of McConnell Center staff will ensure that all still photographers adhere to the limitations for still photographs.

Photographs taken at the McConnell center in any other place during Justice's trip, such as her meeting the McConnell Scholars or any private reception/dinner may be used only for personal mementos. They are not for publication, posting, release, or distribution. According to us, the Justices's meeting at McConnell Scholars cannot be covered by the media. If requested, the Justice will allow five photos of each group and photos with VIPs. The photos may be printed, posted, or released only for personal purposes.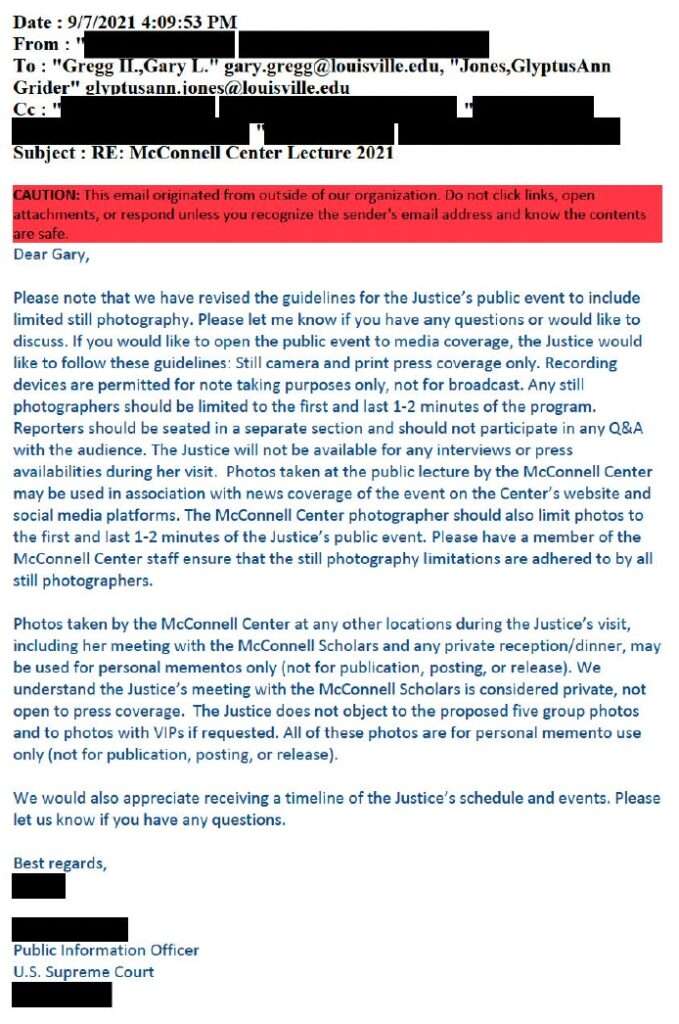 At that moment, press conditions had been established.
Also, there were several emails that Justice Barrett sent to Gregg's chambers. Barrett's assistant asked Barrett:
In order to begin thinking about the topics of the lecture, she's asking herself what they will cover.
Barrett's assistant sent a reply on 22 June 2021
She also wants to think about public lectures and would like to find out how long it should be, along with the topic she has in mind.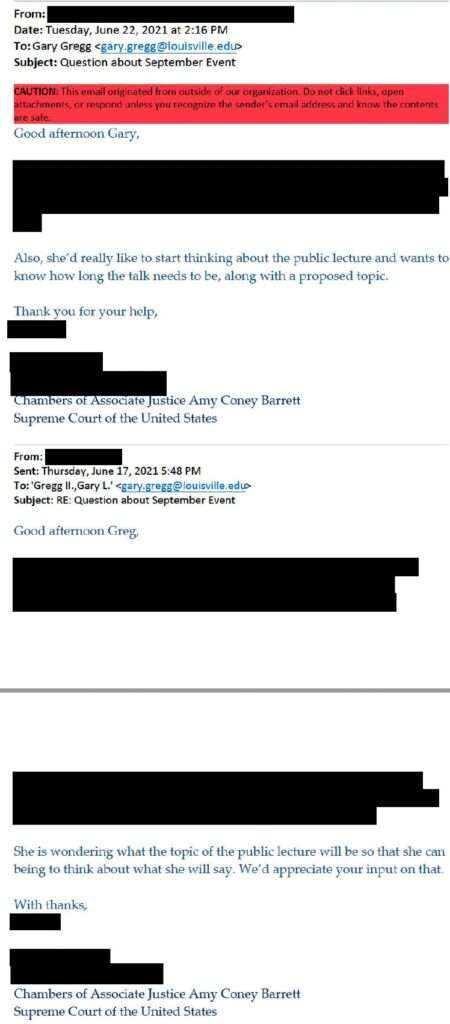 The penultimate date of the term was June 28, 2021.Justice Barrett's assistant provided these guidelines:
Justice Barrett will prepare short remarks (no more than 15-20 minute) followed by Q&A. She would like the questions submitted in advance and asked by a central questioner, or students/alums/audience could be chosen in advance to ask the questions. In the moment, she doesn't want to answer any inappropriate questions.
This sentence shouldn't have ever been published. This assistant was conveying to the Justice that she asked for "inappropriate questions." That was the McConnell Center's request! It is a terrible sight. This is the kind of thing you say over the phone, and never in an email–especially with a public institution subject to FOIA.

The assistant informed the Justice that he wanted to review the questions personally on August 22.
Just to make sure, she'd like to view the verified questions.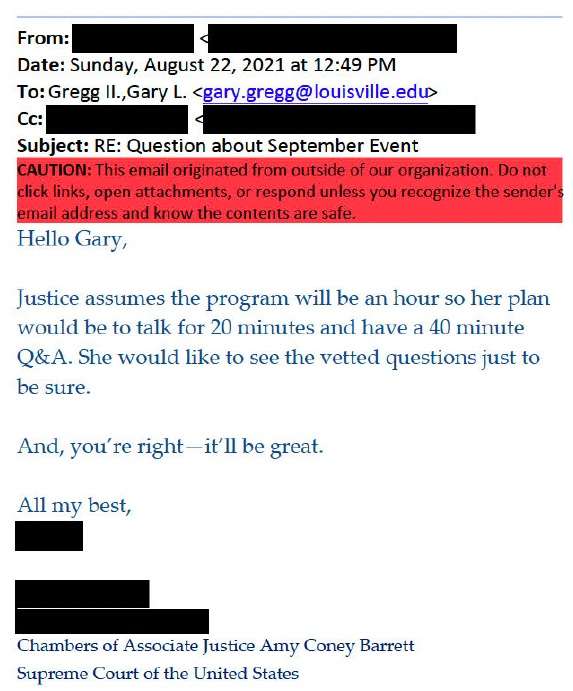 This kind of statement should not be published. The Justice does not want to receive "vetted question" documents in advance. It is very embarrassing for the assistant to make such a statement in a FOIA-allowable document. Justices will take all screened questions. But, often the Justice doesn't first check the Justice.
This sentiment is further precarious when you consider the remarks Barrett made. Press reports claim Barrett stated that she is concerned about the public's perception of Supreme Court. This sentiment could have been triggered by an inappropriate question. Or a question she vetted? It's possible. Because she forbade recording, we have to rely on paraphrasing from reporters.
Justice Barrett's assistant also uses emojis when sending emails.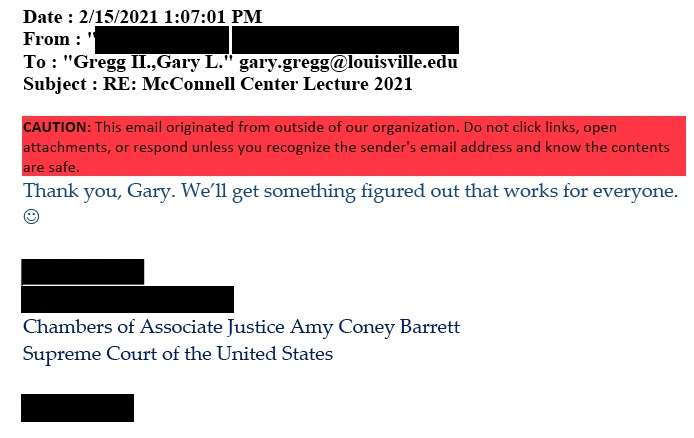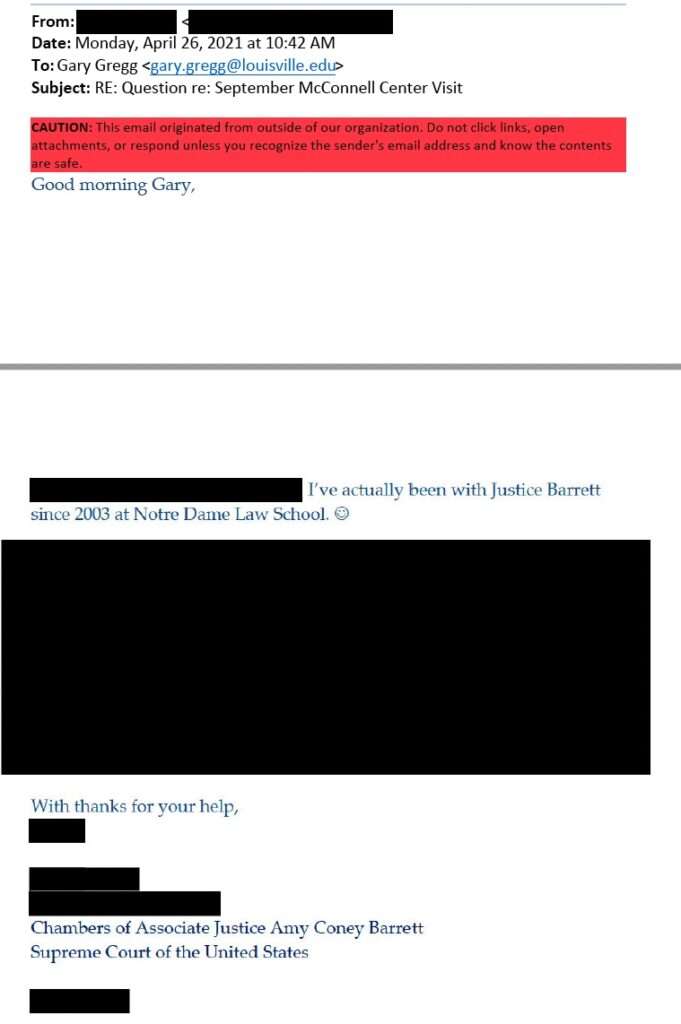 Although you can call me a fool, I don't like smiling faces when it comes to emails coming from Supreme Court chambers.